Chinese and overseas arts serve and
Chinese and overseas arts serve and return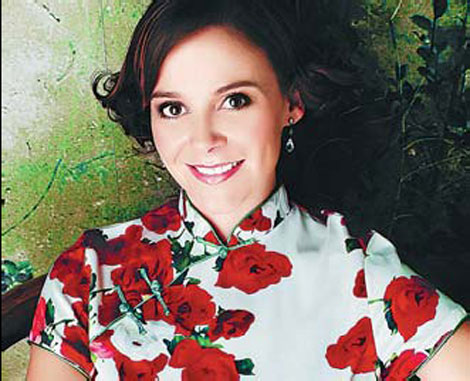 Ping Pong Productions founder and director Alison Friedman.
My China Dream | Alison Friedman
More international audiences have seen the works of Chinese performing artists, thanks to the efforts of Ping Pong Productions. The Beijing-based art management company has been exposing young Chinese artists to oversea viewers through tours, collaborations and teaching residencies.
Founder and director Alison Friedman says her experience navigating the rapidly evolving Chinese performing arts world has been exciting.
"For a long time, most Chinese dancing companies were supported and run by the government, but now as China's entire infrastructure is changing, young artists are creating new works and experimenting with new styles," she says at a recent seminar on performing arts at the Chinese Consulate in New York.
The company's name is taken from the term "Ping Pong Diplomacy", which was coined after a group of American table tennis players and journalists traveled to China in 1971 to smoothen then-strained diplomatic relations.
Ping Pong Productions is dedicated to helping medium- or small-sized Chinese organizations with fewer resources to go abroad.
"We have two main focuses: going out and bring in," she says.
In the summer of 2012 Ping Pong Productions brought TAO Dance company, a small group of fewer than 10 dancers, to an audience of 18,000 at New York's annual Lincoln Center Festival. TAO also performed at Sydney Opera House and Sadler's Wells (UK), among other world-renowned dance theaters.
China generates 2 to 3 million performing-arts products every year, among the highest in the world. But many cultural groups, particularly medium- or small-sized organizations, continue to struggle both financially and in adapting to a modern management, Friedman says.
It's not surprising that most young Chinese artists face financial difficulties, but Friedman remains positive about their future in and outside China and is determined to help them.
Friedman was previously the general manager for Oscar- and Grammy-winning composer Tan Dun's company Parnassus Productions in New York, and a host on China Radio International.
She also served as international director of The Beijing Modern Dance Company and produced international performance festivals including the Sino-US dance festival Booking Dance Beijing during the 2008 Olympic Games.
Friedman's long-time dedication has impressed industry insiders.
Robert Nederlander Jr, a Broadway impresario and the third-generation of the Nederlander family that owns about one third of Broadway's musical theaters says: "She is a visionary, and one of the very few individuals in the field who recognized the potential of Chinese performing arts and cultural exchanges."
Friedman grew up playing piano and dancing. She studied comparative literature major at Brown University, where her love for the Chinese language and Chinese culture deepened.
In 2012, Friedman served as the project manager to liaise between the Beijing Olympic Development Association and the London Olympic Committee on the large-scale community dance project Big Dance Beijing, as part of the 2012 Cultural Olympiad. She also coordinated with the US Embassy in Beijing and the US Consulate in Guangzhou to arrange an extensive dance workshop outreach program in communities throughout China.
In 2011, Ping Pong Productions participated in the "Booey Lehoo" Student Exchange Organization Concert & Arts week, a celebration of cultural exchanges and collaboration between China and the US. The program was planned in support of the US State Department's "100,000 Strong Initiative", a study exchange program announced by US President Barack Obama during his visit to China in November 2009.
Friedman' team will continue working toward their goals. They are currently preparing for TAO Dance's 2014 tour across the US.
"I'll be thrilled to continue to see a better understanding between our people through performing arts," she says.